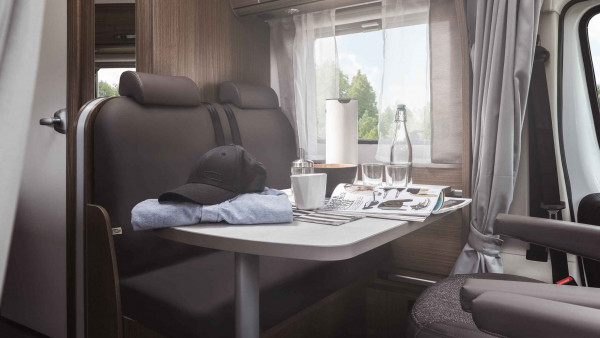 Multi-functional protective cover for the seating area
Recommended retail price including the applicable VAT. Prices may vary from country to country.
Simply send your noted products with the wishlist function to yourself, friends or your CARADO trading partner!

CARADO original accessories are not available ex factory, they are only available directly from your HYMER licensed dealer. Images shown may be subject to modifications.
Suitable for vehicles manufactured by CARADO
Model range / model alcove, Integrated , Semi-Integrated
Model years 2019, 2020
Material: 100 % Polyester
Multi-functional protective cover for the seating area
The multi-functional protective cover protects the seating area in your Carado motorhome thanks to its water, pet hair, dirt and stain-resistant characteristics.
Therefore, it is also an extremely practical companion for families with children as well as for pet owners. Amongst other things, this product scores with its low maintenance properties as the wipeable protective cover can be washed at temperatures up to 60° and can be quickly assembled in a few simple steps. In terms of its colour as well as its fit, the protective cover has been perfectly designed for the seating area of Carado motorhomes and is therefore a useful aid for all Carado drivers.

Colour: Grey-brown
Material: 100% polyester, 210 g/m²
Care instructions:
washable at 60°
not suitable for tumble dryers
do not iron
do not dry-clean
do not bleach
Write an evaluation
Evaluations will be activated after verification.