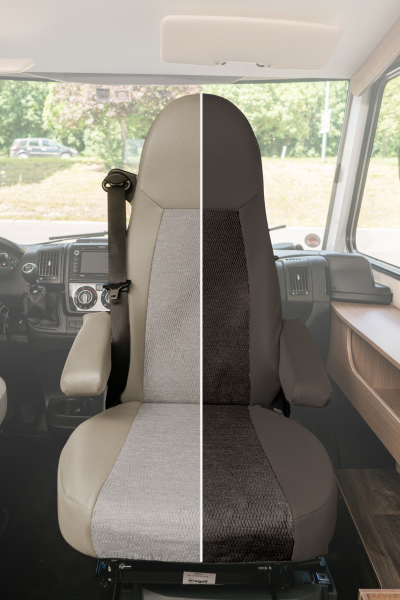 Protective covers driver's seat MY 2018
Recommended retail price including the applicable VAT. Prices may vary from country to country.
Simply send your noted products with the wishlist function to yourself, friends or your CARADO trading partner!

CARADO original accessories are not available ex factory, they are only available directly from your HYMER licensed dealer. Images shown may be subject to modifications.
Suitable for vehicles manufactured by CARADO
Model range / model Integrated
Model years 2018, 2019, 2020, 2021
Protective covers driver's seat MY 2018
These high-quality protective covers can brighten up your vehicle's interior.
The set includes one pair of protective covers (2-piece) complete with separate covers for the backrests and seats as well as 2 pairs of armrest covers. All upholstery materials are 100% polyester and lined with a sliding polyester fleece for easier assembly.
The backs of the covers are lined with 4 mm breathable foam which enables body heat to be dissipated towards the rear and enable the covers to stay pleasant on the skin while in use, even on long journeys. The seams are particularly tightly stitched and are additionally reinforced in the entrance area so that they do not become detached over time.
Write an evaluation
Evaluations will be activated after verification.