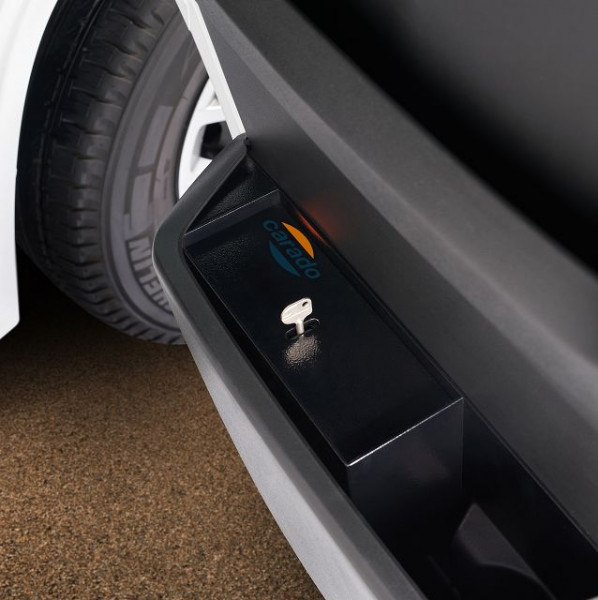 Passenger door safe for Fiat Ducato > MY 2020
Simply send your noted products with the wishlist function to yourself, friends or your CARADO trading partner!

CARADO original accessories are not available ex factory, they are only available directly from your CARADO licensed dealer. Images shown may be subject to modifications.
| Brand | Series/Model | Model Years |
| --- | --- | --- |
| CARADO | Teilintegrierte | 2020, 2021, 2022, 2023 |
| CARADO | Alkoven | 2020, 2021, 2022, 2023 |
| CARADO | Camper Van | 2020, 2021, 2022, 2023 |
| CARADO | Van | 2020, 2021, 2022, 2023 |
Passenger door safe for Fiat Ducato > MY 2020
Rest assured
The safe cannot be seen from outside and protects against theft thanks to its unique bolts. It can be installed in a matter of minutes directly inside the original Fiat map compartment in the door, meaning you don't need to worry about any protruding edges.
It has enough space for all of the essential items that you need to bring with you on your trip, such as:credit cards, mobile phones, identification documents, cash, jewellery etc.
The lid is also protected against being levered open.

Suitable for Fiat chassis from model year 2020 onwards (during the year)

Material: Steel, body 2 mm, door 5 mm
Weight: approx. 4.5 kg
Dimensions W x H x D: 24.00 cm x 17.00 cm (16.00 cm) x 9.50 cm
VDS- certified 3-bolt lock – Made in Germany
Note: The safe does not fit the Fiat Ducato 8